Joe Laing
Built For Comfort Rhythms & Blues tm
Liner Notes
BOXCAR JOE LAING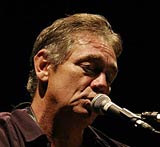 'Music is your own experience, your thoughts, your wisdom. If you don't live it, it won't come out your horn." Charlie Parker
With a stage presence as big as the sun and and a heart as warm as the tropical waters off Belize, blues man "Boxcar" Joe Laing has graced us with his first CD, "Boxfull of Blues - recorded live from Manny's Car Wash," New York City's leading blues venue. Charlie Parker spoke as if he knew the Boxcar personally. If it's experience, thoughts, wisdom and living it that counts, what emanates from the bell of the horn that is the Boxcar that is the blues. Check it out.
Born in Montclair NJ, middle child in a family of seven kids, the Boxcar's two uncles, both of them Roman Catholic priests, used to plunk this kid in the back of their car and head for the Jersey shore. Music fiends themselves, these men of the cloth blasted the radio while little Joe soaked up Ray Charles, Nat King Cole, the New Christie Minstrels. A little guy no more, Joe will bounce you right out on your butt if you snicker at the fact that he loved the big sound that Lawrence Welk's band made. When he was 11, he built his own transistor radio from a Heathkit, locked himself up in his room and listened to church music gospel tunes coming from nearby Newark on Sunday nights. If music can calm the beast and put you in a state of ecstasy at the same time, that's how it was for young Joe as he approached his teen years.
"A priest at Boys' Town in Kearney, New Jersey gave me my first guitar. It was a gut string. .I. don't remember what the name was...." He always sang as a kid...a natural comedian, cut up, and show off, he started writing songs at 15 - playing guitar just well enough to get people to listen to them. School kids used to taunt him with "Doo Laing, Doo Laing, Doo Laing" from the Chiffon's hit, "He's So Fine". Then when a friend of his older brother brought his soul records to the house, that was IT for the Boxcar. Percy Sledge, The Four Tops, The Temptations - that music was happenin'! The rest of the kids in the suburbs were listening to Led Zeppelin, Humble Pie, and the Rolling Stones. But the Boxcar wasn't crazy about the British Invasion - he was listening to the real stuff.
He went to school on Ray Charles, Joe Cocker, Leon Russell, David Clayton Thomas, Dr. John and Lou Rawls. Years later, Joe would hang with some of his heroes when he worked at the Lone Star Cafe in New York City. But in these early days he could not imagine such a thing as actually singing his heroes. In the meantime, Joe knew he wanted to sing. Get it straight: the Boxcar came from a family of seven kids. His father was a cop; there wasn't much money. Doin' that singing stuff was daydream in'...or so Joe thought. You gotta do something else for a living -something with a steady paycheck and a boss. So Joe ate it, took a gig with some local civil engineers as a land surveyor and draftsman. Then he joined the police force
"I always had a radio in the squad car stuck against the windshield with a bungee cord to keep it in place. During high speed situations you often had to drive fast. In dangerous emergency situations, I kept my guitar in the trunk ... I'd go up In the woods and play on company time. I was an Essex county park police officer - and in Newark...Crime City, USA - the music kept you sane..."
He'd see a bunch of kids in the park playing music. They'd start hiding stuff, thinking he'd bust them for pot, but Officer Laing was just into the music. He'd pick up their guitar and play a riff from "Roundabout". It would just blow the minds off those kids - a cop playing .... Yes!
"Tore down, almost level with the ground."
Joe was a cop, a partner in a real estate company, married, trying to be a good working guy, but he was unhappy. The marriage ended and he turned in his badge. A cop's life comes with awesome responsibility. The Boxcar needed to lighten up, so he started driving a school bus. One day the bus broke down and he fixed it. In a flash, he was managing the bus depot in West Orange. They wanted him to be the company liaison with the schools. Again, more responsibility. He waved good-bye to the bus company. He took a job as a truck driver so he could drive and play his harmonica. He raided his cop's pension and bought himself some recording equipment. He was driving for Manhattan Audio Visual and within 6 months he was repairing the stuff and managing the office. He troubleshot the ground loops on the recording truck that was tracking "GI Jive" at Roseland for PBS and was offered the sound gig at the upscale cabaret disco, Les Mouches. There he was, doing sound for Eartha Kift, Maureen McGovern, Patti LuPone, Phyllis Diller, Cissy Houston, Richie Havens, and Gregory Hines. Then Joe walked in to the Lone Star Cafe for what he thought was a two-week gig. Two weeks later Buddy Fox wouldn't let him leave.
That was the turning point in the Boxcar's life. Asked to help rebuild the sound and live broadcast systems, Joe found himself in the middle of his dreams. The Lone Star Cafe was home to some of the greatest touring acts in music history. Eclectic in its roster, it boasted performers at the top of their genres. Joe heard it all: blues, rhythm and blues, zydeco, cajun, country, country blues. Live right there in his face. Seemed like everybody who was anybody was doing nights at the Lone Star: James Brown, George Strait, Etta James, Richie Havens, Reba McEntire, Cornell Dupree and Eric Gale, Dwight Yokum, the Neville rothers, Christine Lavin, NRBQ, Lee Greenwood. He was there every night, tweaking the EQ, getting the monitor mixes just right. He hung with them all and they bonded. Friendships blossomed with legends Albert King, Delbert McClinton, the great Paul Butterfield, Albert Collins, the great songwriter Doc Pomus. Wheelchair-bound. Big Joe Turner, the artist with the biggest voice of all, became one of Joe's favorites. Big Joe was quite ill when he came into NY to play one of his last sets. Joe and Buddy Fox physically lifted Big Joe up on stage and set him in his chair to sing. And sing he did. As the Boxcar said, "he didn't need no microphone". They all came to the Lone Star Cafe. They were all Joe's teachers.
"The night that David Clayton Thomas sang with Dr. John, I thought I was going to heaven." The Boxcar watched and listened. And he learned. He saw how the greats just walk up on that stage and have the crowd in their hands in a New York minute. He saw the amazing effect a smile could have on an audience. He also learned a whole lot of what not to do. Like when something goes awry, you just pick up and keep going - small stuff that makes a pro.
Many of the performers noticed Joe at sound check. He'd be setting up mikes, moving monitors, walking here, hoisting something there and all the time he'd be singing along with the background music coming from the PA. His voice was loud, clear and strong. "Hey man, you ain't no sound man," they'd say. "You ought a be singing." Yeah. Joe knew that from the time he was cruising down the Jersey Turnpike with his priestly uncles. Right. Then they started calling him up on stage during their sets. Country singers Suzie Tyrell and Tommie Joe White were the first to invite him up there. He walked right up, faced that audience and took a verse and a chorus. Was he nervous? Maybe. But he knew he was home.
But it still wasn't right. Something was pulling on him. He knew he was pushing too hard. Too much city. Too much night life. Too much everything. Friends like drummer Wells Kelly of Orleans, Jaco Pastorius, Richard Manuel of the Band, and Roy Buchanan were dying. He had to chill out for a while. He quit the Lone Star and moved to the mountains. Woodstock, NY. He just needed to listen to the music that the wind made as it whisked through the trees. He needed to be soothed by the sounds of a trickle that becomes a brook that becomes a river.
He bought a bar upstate; wanted to make a small club happen. He made a great pizza. Then he got that call. His pals were opening a new blues club. It would be called Manny's Car Wash. Would he come back and help them with their sound system? "Absolutely not," he said. Nothing would get him back to New York City. Babylon. Temptation. But it's a blues club, they said. Ooooooh. He sighed. It's the blues. He returned to Dodge, refined the sound system, raised the stage, built the speakers by hand and installed the electric sign that faces the performers and screams "Turn Down" in red lights when it gets too intense.
"Tell ole Boxcar Joe tell everyone you know we gonna pitch that Wang Dang Doodle all night long " - Willie Dixon
Manny's Car Wash. They had a jam session on Sunday nights. The fellow running the jam sessions was keen on trying on a bigger pair of pants. There had to be a change. All those nights at Manny's and the performers were still calling the ebullient sound man up to the stage to sing a number or two. Kenny Neal, Johnny Clyde Copeland, Little Buster and the Soul Brothers, Big Time Sarah, Jon Paris of the Johnny Winter Band. The Boxcar was wailin', guesting with the greats. It was time to put his own band together. He called on some of New York's finest players: Chris Carter on guitar who's backed Chubby Checker, Ronnie Spector, Hubert Sumlin, Johnny Johnson and Kenny Neal with his hot licks; Mitch Mangold, tasty keyboard player with Toots and the Maytals, Cornell Dupree, Lightnin' Hopkins, Otis Rush and Graham Parker; versatile bassist Tim Tindall who's held down the bottom for Sam and Dave, The Staple Singers, Rufus and Carla Thomas, the Hudson River Rats and whose self-penned book "What Duck Done", on legendary Blues Bros bass playerDuck Dunn, is becoming an industry standard; and rhythm king James Wormworth on drums who's kept time for Johnny Copeland, Johnnie Johnson, Bo Diddley, John Sebastian,
Donald Fagen and Albert King. He put them all together on stage at Manny's and "The Boxcars" had the jam session, That was it - the start of the Boxcar's professional music life. He led the jam every Sunday for nine months. The first Sunday night I walked in with my guitar, he put me right up on stage. I didn't even get a chance to watch anybody else do it before me. He wanted more women to have a chance up there. Generous. It became my routine: Manny's on Sunday nights. Jammin' with the ubiquitous Boxcar. He and the guys would warm up the crowd for an hour. Then they'd break and the musicians would line up to play. The Boxcar would lead the jam, wireless mike at his side. He could put you at ease but if you didn't have your shit together, watch out! The guy used to be a cop - we all knew that. But he connected with us all - musicians and audience alike.
His great reputation for running the sound in the clubs brought in a load of requests from major networks to do sound engineering for them. The Boxcar started his new career working as a freelance sound engineer on network shows and video productions. But the Boxcar was still juggling the blues with his new career. He would leave the jam session at 3 a.m. and be at work at "Good Morning America" by 4:30 am. He arrived in Oklahoma City in 1995 a few hours after the bombing, as a member of the ABC-TV crew. That experience showed him how fragile life can be and through it he renewed his commitment to live his life to the max.
On this, his first CD, the Boxcar gives you a night at Manny's: April 16, 1996, his very first gig as a headliner. Pretty audacious, huh? This CD was recorded live with absolutely no vocal or instrumental overdubs whatsoever. It's the blues, pure and simple.
-- Elizabeth Rose
BOXCAR JOE LAING ON THE SONGS:
"Killing Floor"...a Howlin' Wolf song -"You Gotta Help Me" by Sonny Boy Williamson and Ralph Bass that you used to hear Paul Butterfield do all the time. The world of blues misses that man. -"Hallelujah I Love Her So" - a Ray Charles gospel standard. -"You're Gonna Hate It Baby"- an F# blues I had just written - the band had never played it before and it came out so good, we put it on the CD. - "Rock Me Baby" a Muddy Waters (Morgenfield) tune to get the crowd going it's about the people - not about the players - get your sorry butt going for the people, they love the sing-along songs. - "Let The Good Times Roll," a Sam Theard and Fleccie Moore Jordan standard that BB King, Ray Charles, Phoebe Snow and many other artists have covered. - "Dock 0' The Bay" written by Otis Redding and Steve Cropper - I always wanted to sing that song my whole life. I arranged it myself.. It got me so high - singing that song. - "Mad Dash For the City" ..I wrote it almost 20 years ago while I was stuck in that Lincoln Tunnel traffic. - "The Things That I Used To Do" by Eddie "Guitar Slim" Jones where we learned the lesson of live recording - we had to fade the song out because we ran out of ADAT tape you'll I have to buy the next CD to hear the end of it! Thank You: To all my friends and family - The Doo Laing. Special thanks to Manny's Car Wash, MR MUSIC, Buddy Fox, Brad & Mike Winters, Mike Weinstein, The Band, Roy Bucanan, Paul Butterfield, Bill Perry, Kenny Neal, The Big Man, Popa Chubby, Jorma, Mort Cooperman (Mr. Lone Star Cafe), Tom & Annie Pacheco, Tree, Ms. B #1107, Bob Phillips, Jimmy Benett, Elizabeth Rose, Harve and Alfonze, Tom Hagerty, The Party Dolls, Rock Skully, Ray Zimmerman, Sandy Alexander, Andy & Jeff Kent, Motorcycle John, Suz Ramon, my man Earle, the Miller Brothers who are constantly with us, Todd Gross for his computer work and help with graphics, and all my friends at ABC network and World News.